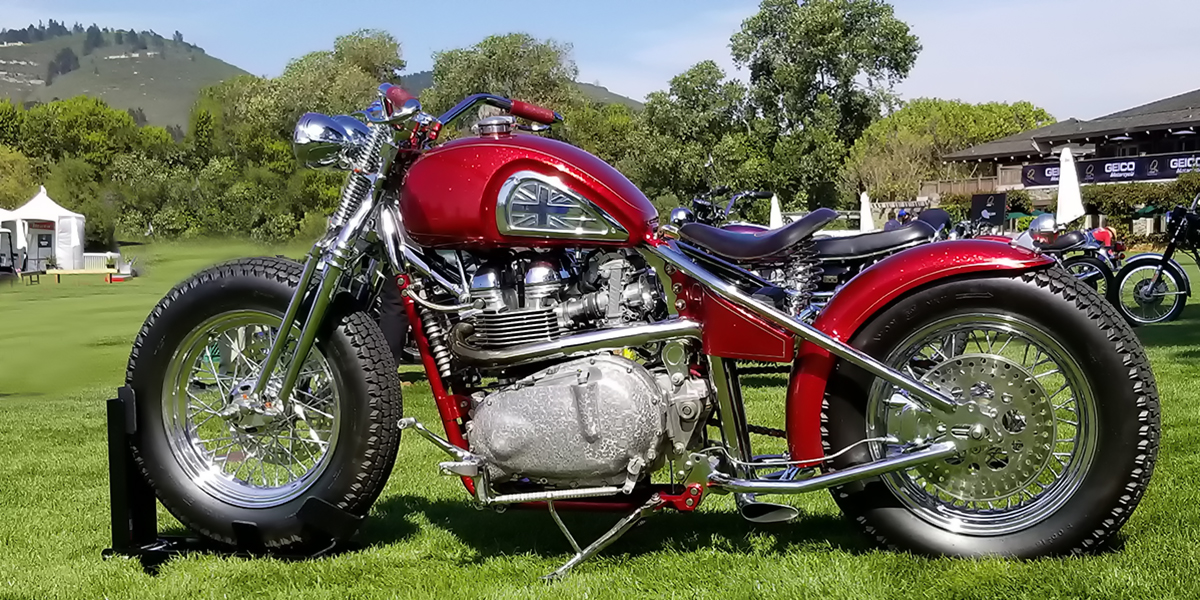 To showcase his love of custom bikes, Motone USA owner Dale Crawford built Mahakala, The Red Bobber. Mahakala is the Tibetan Guardian of the tent and nomads. He was Genghis Khan's personal deity and a fitting name for the motorcycle lifestyle. The project is a reflection on Crawford's introduction to custom bikes and cars in the 1960s in Southern California.
"I grew up in the time and place where Custom went wild. At fourteen, I was learning from my Hot Rod older brother and his friends how to build and customize cars. Weekends were spent wrenching or going to places like Lions Drag Strip and the nights were cruising Big Bob's in the San Fernando Valley or the Sunset Strip," Crawford explains.
Since its completion in 2017, The Red Bobber's classic design has won several J&P Ultimate Builder Custom Bike Show awards and was showcased at The Quail Motorcycle Gathering in Carmel, CA in 2018.
This award winning bike was a collaboration between Crawford and a group of fine artists, craftsmen and builders. At its foundation, a hardtail, solid chrome frame was chosen for its bobber bones. The engine was bored out to 904ccs to make the bike run as fast as it looked. The heads were ported and polished by Tony Lewis of Eurosport in Ft. Worth, Texas. Tony also assembled the engine.
The engine covers were hand-tooled by the best craftsmen in India using traditional techniques and designs. The solo leather seat was hand engraved by Matt Hurtado of Workingman Customs in Austin, TX. The incredible Candy Apple Red Metal Flake paint was laid down by Darren Williams at Liquid Illusions in Lees Summit, MO, and the CNC aluminum Union Jack tank emblems were inspired by Motone rubber knee pads.
Kyle Shorey of Shadetree Customs in Roanoke, TX, who assembled the bike, designed and built the exhaust and cutaway oil tank. To create a true bobber, no front fender was added, the rear fender was chopped and springer front forks with dual grilled headlights completes the build.
Motone USA understands the passion of the build, and Crawford is available to personally talk to customers about projects and which parts may be best suited to achieve the results you are hoping for. Whether you are an experienced builder or just beginning your adventure into customizing, Motone USA is here to help.
We specialize in Triumph custom projects and cafe racers and we are happy to share our years of experience with you. We have more than 200 parts in stock to help you create your own custom motorcycle.